Sewing Patterns and Notions
Linda McGehee designs classic and designer-inspired handbags and purse patterns for your DIY sewing. Her patterns and designs use hardware from the ready-to-wear industry. Ghee's is your source for unique designer-styled handbag patterns and accessories, including: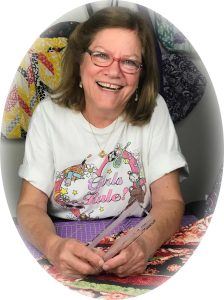 Embellishment and More: Linda's cleverly embellished creations incorporate zippers, embroidery techniques, decorative stitching, piecing, appliqué, trims, pockets, piping and more. She has designed for the prestigious Fairfield Fashion Show, Statements, Capitol Imports, and various sewing and quilting magazines.
Linda loves to share the products and techniques she uses to design her own unique handbags, vests, and garments and hopes you'll find as much enjoyment in creating your own designer handbags, purses and totes as she does.