Sewing Patterns and Notions

Linda McGehee designs classic and designer-inspired handbags and purse patterns for your DIY sewing. Her patterns and designs use hardware from the ready-to-wear industry. Ghee's is your source for unique designer-styled handbag patterns and accessories, including:
Embellishment and More: Linda's cleverly embellished creations incorporate zippers, embroidery techniques, decorative stitching, piecing, appliqué, trims, pockets, piping and more. She has designed for the prestigious Fairfield Fashion Show, Statements, Capitol Imports, and various sewing and quilting magazines.
Linda loves to share the products and techniques she uses to design her own unique handbags, vests, and garments and hopes you'll find as much enjoyment in creating your own designer handbags, purses and totes as she does.
Enter the Ghee's Shirt Tail Vest Challenge!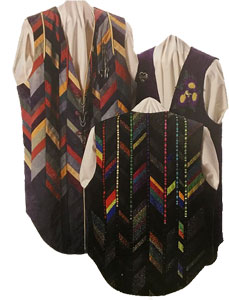 This challenge will inspire you to show off your creativity with sewing, embroidery, quilting, overlocking and all thread/fabric arts techniques.
The rules are simple — you must use Ghee's Shirt Tail Vest Pattern #595. The pattern includes 3 lengths — shirt length, tunic, and duster — and you can choose one of these or create your own unique hem finish/length. Several ideas for design work are included in the pattern for inspiration. Choose at least 3 of your favorite techniques to include in the garment. See the Challenge Flyer for complete information, then enter your creation.
Contest runs through March 17, 2021.